Set Off Your Party with Invitation Cards that Are Different from the Rest
Give your guests a sneak peek of your event with creative invitation card ideas that will persuade them and make them look forward to your party

Do you know that your invitation cards set the tone for the event or party you are currently planning? This means that your invitations should make your guests eagerly await your festivity!
Apart from this, chances are, you save and store greeting cards and invitations that are special, relevant, or mean something significant in your life. Even if you don't, the people you are sending the invitations to probably do via scrap-booking or other methods.

Thus, your invitations have to feel relevant and memorable. Not just for the event at hand, but also for years into the future.

Depending on the kind of event or invitation card you're interested in, here are a few things to keep in mind:

For wedding invitations, elegance is key

The key to a great and memorable wedding is elegance. Hence, use this same key to unlock the mystery of choosing or making wedding invitations.
In reality, a classy wedding invitation doesn't mean a complex one. Instead, keeping it simple will give you the best results every time. For example, If you have a wedding theme, color, or destination, you can use that in the card. Such subtle nuances personalize your invitations.

You may even want to kick it up a notch and create an unexpected and unique wedding invitation. That's great too as long as you still keep it simple and graceful.

For party invitations, let it rock!
Your party is a time for celebration and for an all-round lively and bubbly atmosphere, right? Then why use the same ol' boring card? Instead, give your guests a sneak peek of what to expect with invitations that express "it's time for a party that rocks!"
One cool way to go about this is to use the theme of the party in your invitation greeting card. For example, a pizza party invitation with a pizza art theme is all the persuasion you'll ever need to get your friends together on time for a pizza party.
If a birthday party invitation is what you have in mind, then a cupcake theme, party hat theme, or some other birthday theme will work.
By the way, the party hat art theme just mentioned works for all sorts of party invitations. Examples include kids' party invitations, new year party invitations, graduation party invitations, and many more.

For baby shower invitations, the cuter the better!

There's no better baby shower compliment than "Aw, that's so cute!" If that's the impression you want to leave on your guests' minds before they even mark their calendars, then go for adorable styles.

One way to achieve this is to use baby features. These include diaper, baby bottles, stroller, crib, baby bump, and pregnancy themes. That's not all though. What other baby motifs can you think of?
For another idea, shower themes will work as well. In other words, focus on the alternative meanings of the word "shower." An example is using bathroom shower or running water as the theme in making the card.
In passing, did you notice that all these ideas add humor to the baby shower invitation card too?

For creative invitations, keep your guests' thank you cards in mind
Of course, anyway and anyhow you make your invitations, they certainly qualify as creative cards. However, there's one cool idea that's worth bringing to your attention.
Do you plan to send thank you cards to your guests after your party or event is over? Then, consider making your invitations from the same art or theme you intend to use for the thank you cards.
The goal here is to amaze your guests even after the event is over. No doubt, this idea achieves that because both types of cards will match and complement each other.
Now, that's definitely creative!

For unique invitations, think outside the box. Yes, it seems cliché, but it works!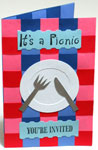 There's a common misconception that unique invitations are unavoidably complex. Don't fall for that myth.
In truth, if you simply infuse everything already discussed on this page with one of the many features you can change to create unique cards, you'll end up with unique invitations. It's that simple. This woven picnic invitation is one good example.
One area that gets it and constantly looks for ways to put together unique but simple creations is in the area of unique wedding invitations. This is because a once in a lifetime event, such as your wedding, deserves a once in a lifetime kind of invitation card like a spinning unique wedding invitation that reveals both sides of the card example.

For electronic invitations, don't lose that personal touch
Electronic invitations or e-invites, are one of the cool gifts of technology. Yes, you should embrace this technology, not fight it. Nevertheless, when it comes to e-invites, it's easy to lose that personal touch.

Want to prevent this? Here's one way that's quite easy: your e-invites should complement, not replace, your invitation cards. In other words, use your invitation greeting cards to create the e-invites.

Apart from this, the advantages of e-invites outweigh the disadvantages. This means electronic invitations are here to stay. So, make use of them in ways that maximize their benefits while minimizing or eliminating their setbacks.

Want to make just one invitation card and, yet, invite a lot of guests?
Have you ever created a complex or expensive invitation card, didn't want to do it again, and wished you could use that one card to invite everyone? This might seem like eating your cake and having it too. Nonetheless, it's possible.

Simply showcase that single invitation card of yours online and send the link to your guests inviting them for your party or event. This is another style of an electronic invitation as already discussed above.

On the other hand, even if you plan to post-mail invitations to all of your guests, it's still a great idea to place your invitation at a single location online that those same guests can get to.

Finally, for persuading your guests, hold nothing back!
At this point, I hope you're convinced that your invitation card is the key to persuading your guest to attend your party or event.

If so, then hold nothing back. Go beyond date, time, and venue. Include agendas, special guest plans, menu items, directions, maps, and anything else that comes to mind. Put information on every page if you have to. Let aesthetics light your way.

In essence, get your creative juices pumping. This time around, go all out on those invitations!

So, What's Your Best Invitation Card Persuasion Story?
Did you make or come across the best invitation card ever and want to share? Then upload your pictures and tell the story behind the card below.

Even if the party or event is past and you've kept the invitation card, share it anyway. You'll become a source of inspiration to others.

Do you have a video to include with your story? Just copy the "embed code" and paste it below!
See How Others Persuaded Their Guests with Their Invitation Cards
Click below to see what other visitors loved about their invitation cards.
It's Shreyas' Birthday Party! Not rated yet
It's Shreyas' birthday and you're invited to his party! You may already know that my son, Shreyas, is a cute little lad and the apple of everyone's …
My Sister's Wedding Invitation Not rated yet
I was in charge of making the invitation card for my sister's wedding this year. Just like any other wedding, a traditional Indian wedding has lots of …