About Us: It's a Family Affair Over Here

Hello there, and welcome.
First, thank you for visiting.
Now, where do we begin with this story about us...?
We're cool at crafting but terrible at selfies: Family vacation at Niagara Falls.
Well, our names are LaChelle and Amandi, along with our kids: Nate, Austin, Caleb, Joseph, and Josiah.
We are the family behind the crafting adventures over here at Creative-Greeting-Card-Ideas.com, also known as CGCI.
If you take a quick peek through this website, you'll realize that our kids are our muse and motivation for creating these crafts.
However, what's not obvious is the fact that we've been making cards for over 20 years now, way before we even decided to put together this site.

Our Mission


Show that greeting cards can be fun whether you are sending, receiving, buying, making, or having someone else make them.


Crafting with Caleb.
Our Contacts

We would love to hear from you. So, to reach us or to stay in touch, please use the various forms, methods, and platforms in the contact us page.
Our Background

Our education and background are in the sciences. Hence, during the day, we're focused on nursing, engineering, and schooling.
But at night and over the weekend, we put on our imaginary capes, transform into our alter egos, and jump right into our crafting adventures.

Our Evolution

Indeed, we've been creating cards since before Y2K (Year 2000), long before our kids even came into the picture. In hindsight, the goal back then was quite basic:
Make cool greeting cards...
...that don't require specialty-tools or costly materials.
Then, we started having kids and focused more on them instead. Thence, we had to figure out much more efficient ways to spend the time we used in making cards. This led us to reassess our crafting ingredients and equipment.
By the way, you may even get a few laughs out of some of the interesting habits we kicked as we consequently carried out our greeting card supplies makeover.
Anyway, from this reevaluation, our desire then became:
Make cool greeting cards quickly.
Next, before we knew it, we grew into a family of five kids. As a result, our leading crafting challenge wasn't about speed anymore. Instead, it was how to contrast our creations.

Thus, to avoid duplicates, we tried to differentiate the cards from each other and those of previous years. Ergo, our purpose transformed into:
Make various cool yet distinct greeting cards.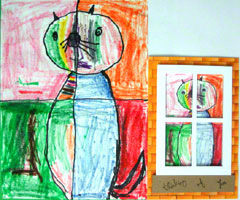 Nate's art led to this thinking of you card.
In time, we noticed that our children's scribbles and doodles morphed into art right before our eyes.
No doubt, as parents, we were already unwittingly biased towards our kids' art.
Either way, their crafts further inspired and motivated our creations nonetheless.
Thus, our resolve evolved into:
Make various cool yet distinct greeting cards while utilizing our kids' art whenever possible.
About Us: The Moral of Our Story

"Thinking of you" pix (from us to Mom).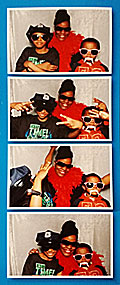 "Missing you" snaps (from us to Dad).
Okay, what's the takeaway here?

The point is, even though motivational reasons and sources may change or yet dwindle, with enough time and perseverance, inspiration can still come from anyone and anywhere regardless.

In other words, if you relentlessly look around, you'll eventually find someone or something that'll inflame you to push yourself and work on that next craft project or break out of your crafter's block.
That is what this story about us, and this whole site, is all about - to provide concepts and options that'll help you achieve just that. So, please enjoy!

And, once again, thank you for visiting.