Want to Make a Well-Appreciated Birthday Card This Time Around?
Then, before starting the project, ask this single question. And use the answer to refine the birthday greeting card
Do you know that, in your lifetime, a birthday card is probably the kind of card you'll send the most? Yes, there are stats to support this, courtesy of the Greeting Card Association.
The point is, with so many birthdays on your list all year round, it's easy to loose sight of that one important question:
Who is the birthday card really for?
Yes, it seems trivial. But wait and see the big picture before drawing that wrong conclusion.
Basically, the card is not for you. But for the person you are sending it to.

So, consider that person's likes, dislikes, milestones, interests, hobbies, favorite sports, plus other similar ideas.


Then apply them into the card. And you'll end up with the best card ever.
Even though this approach creates a well-appreciated card, it benefits you as well:
It makes it easier for you to come up with the greeting card art and to choose a birthday design layout.

It also helps even if you only want to print birthday cards.

Plus, it opens up avenues to add humor and turn the project into a funny birthday greeting card.
Do you see the big picture yet? Okay, here are some examples to make the picture clearer.
For the fashion conscious

If that person loves shopping and fashion (and who doesn't?), then a card with a cool fashion trend might do the trick.
Also, maybe he or she wears a uniform to work. Perhaps there is a favorite or "special" hat or neck tie. Then use that in the card. Examples include purse-like birthday greeting card and belt-looking greeting card.
Celebrate those milestones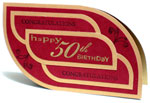 It's always a big deal to cross any milestone. So recognize this on the card. A 50th birthday greeting card is a good instance.

Click here for tips on converting this 50th birthday card to suite a loved one.
Remember to consider the kids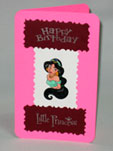 Don't want the kids to feel your cards are boring?
Then make the kids' cards with their favorite princesses, dolls, heroes, or cartoon characters.
Also, how cool is it to make a card for the kids to send for their grandparent's birthday?

Click here for tips on cutting decorative edges that align afterwards just like in this card for kids.
How about a little humor?
Because it's time for birthday wishes doesn't mean you can't inspire a little humor. So spice up the project and make a birthday funny card. It's quite easy.
For instance, if you use a statement like this to make the card, it will work for anyone of any age:
It's not just another birthday...
...But this particular one is very important
Because it's the first of the rest of your birthdays!
Aren't themed cards cool?

If the person loves golfing, what other card is better than a golf birthday card greeting?
Themed cards are also appealing because they serve well for other occasions.
Hence, they can easily become get well cards, congratulation cards, and funny cards.
Running a business? Use it
Do you run a business? Then it's probably true that the person you are sending the birthday greetings to already knows this. And has possibly patronized you or referred a customer.
Or maybe your employee, customer, or client is having a birthday. If so, then a birthday business card is the way to go.
Not another belated card
No one likes to send a birthday belated card. But the reality is: it happens. So why not make the best out of it?
The interesting belated cards are the funny ones. It's good to clear the air with a little humor.
There you have it!
Is the big picture clearer yet? Hope you now see that it's possible to create more than just a happy birthday card. Right? Then go ahead. Have fun. And turn that project into an amazing creation.
Nevertheless, birthday greeting cards are not the only way to celebrate this important occasion. For more birthday ideas, visit this Birthday Wishes and More site (link opens in new window).

Okay, at this point, you probably have an answer to the question posed next. Right? Then feel free to share your story below....

How Did You Know That Card Was the Best Birthday Card Choice?
With all the options in the world, it's sometimes difficult to pick out the perfect birthday card, right?

So, how did you come to select that birthday card? How did you know that was the best choice for the celebrant?

On the other hand, maybe you received a birthday card and wondered how the sender read your mind because the card was just perfect. Share your story below.

Want to include a video about this? Just copy the "embed code" and paste it below!
Here Are Your Wonderful Birthday Card Decisions
Click below to see birthday card selections and stories from other visitors to this page...
Stolen Birthday Card for My Mom

One time, I got an awesome birthday card for my Mom who lives 400 miles away in North Carolina. She loves to laugh so I take every chance I get to give …
A Musical Birthday Card for Mom Not rated yet
For my lovely mom's birthday card, I wanted to make sure I gave her a thoughtful card to illuminate her day before she took a birthday trip out of town. …