Are There Such Things as Creative Cards?
Tired of making the same old boring cards? Then get creative with these ideas, tips, and tricks
Do creative cards actually exist? Before you respond, consider this:
It takes creativity to make any card, no matter how simple the card is.
However, it is fair to point out that some cards are much more creative than others. So the answer is, yes. They do exist.
Basically, if you artistically go above and beyond what a regular greeting card looks like, you end up with a creative card.
It's easy to confuse this with a unique greeting card even though there are certain similarities.
Either way, it's beneficial practice to consider using the cool and creative features of the card to put together funny greeting card phrases that go inside the card.
There are so many ways to put together creative cards. Here are some of them:
Play with the edges

This is one of the easiest ways to add creativity. It can be as simple as making the outline of an image. Or as complex as creating jagged edges that match and align with each other.
The coolest thing with this is that you can never overdo it.
The factor to consider is...how much time do you truly want to spend on this? Because, if you allow it, it could take up all your time. But the resulting creative cards would definitely be great.
Focus more on the theme

With this method, the theme or symbol of the occasion becomes the greeting card art. And this figure should be so big that it takes over the whole card.
Next, if possible, trim the edges of the card to match the outline of the art.
Ironically, the moment you change the theme, it becomes a unique card. But when you merely play around with the theme, it is still a creative card.
Combine different materials
No matter how you slice or dice it, combining various materials is fun and adventurous.
Common greeting cards materials include beads, foam crafts, acrylic jewels, plastic sheets, cloth, ribbons, plus actual flowers and leaves.
Other not so common materials will still work perfectly. Simply figure out a way to apply them creatively. Examples are cotton wool, tiny plastic tubes, and bamboo sticks.
So what other materials will do the trick? The list is endless, right?
If you want to do something beautifully chaotic, then make a collage and use it on the card.
Give the card some depth and add a few layers
One of the simplest ways to create depth is by embossing. But even this style has many different methods. Examples include heat embossing and dry embossing by applying pressure.
Another way to create depth is by adding layers. These layers could be other cardstock papers, cardboard paper, or something else. Simply cut them into desired shapes, letters, figures, and sizes. Then use them to create cutout cards.
Don't forget to bleach
Yes, the idea of using bleach is scary. But to make creative cards, you might have to step out of your comfort zone.
Believe it or not, dyes create the colors in some of the colored papers and cardstocks. So, normally, bleach and colored paper is a catastrophic mix.
But if you get artistic with how you use the bleach, the results are just amazing. Also, diluting the bleach increases the possibilities. Try it and see.
Important Tip
Remember, bleach is a strong chemical. So use caution, protect the work surface, and read the warning labels.
Throw in some music or recordings
Creating a musical greeting card is definitely a stylish way to go.
Also, adding some music or recordings is a great way to personalize the creative cards.
The trick is to take the thickness of the recording device into consideration from the beginning, instead of adding the device as an afterthought.
Use strings and thread even if you are not sewing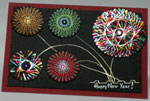 It's okay to hand sew and embroider designs and figures. But these days, there are cool sewing machines for that as well. And they can help create unique embroidery cards with ease.
However, not sewing and using strings and ribbons to trace out patterns and designs also adds variety. Plus there are so many colors, sizes, and lengths to play with. So don't be afraid to experiment.
The only concern here is that it could take some time if you let it.

Curious to know what the names, colors, and types of threads used in this creative new year greeting card are?
Think those old greeting cards are trash? Reuse them instead
I believe in keeping and never parting with greeting cards. But as life goes on, you realize that you just have to get rid of some of them. Don't trash them. Simply store them and reuse them to make other greeting cards.
In other words, cut them up and combine them to make new cards. One option is to create confetti cuts. Then arrange the confetti to make a collage for the greeting card art.

Another collage option involves using only the images, letters, and writings. By the way, this adds depth and layers to the new cards as well.
A little weave doesn't hurt
To do this, cut strips of cardstock paper, ribbons, or other materials and weave them like baskets. The basket weave can be a simple checkerboard or a complex motif.
There are other ways to weave the strips without making the basket design. The Iris folding style is one of them.
Pop up cards definitely qualify as creative cards
Since I was little, pop up cards have always been the coolest thing ever. I love them because they wow anyone I send them to, regardless of the person's age. Try it and see.
Maybe you are afraid of creating pop up cards because they seem complex? Don't be. Yes some of them can be complex. But there are simple pop up cards you can make as well.
A little fold here and there is also creative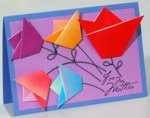 There are so many ways you can add folded features while putting the card together.
The simplest examples are fan fold and accordion fold. A fan fold is simply an accordion fold that is narrower or pinched at one end.
Another example that may not be as simple as that is origami. This is the Japanese ancient art of paper folding. Use this to create recognizable elements to put in your origami greeting card project just like in this Mothers Day card with origami tulips.
Some origamis are straightforward while others are complex and take time. Either way, the results are so worth the effort.
Grab a quilling tool and roll some paper
Now here is an activity that is always fun. But some of them can take a while.
Still, they all start by rolling the thin paper strips or ribbons on a quilling tool. And they all end by turning the quilled rolls into swirls, spirals, twists, or coils.
But after this, it gets interesting. Because, for the swirls, twists, and spirals, the process is completed. And you can now use them to decorate your creative cards. Hence these three are quick and easy.
But, for the coils, it's just the beginning. The next steps involve curving, pinching, shaping, and combining them to give a bigger picture. And tell a more fascinating story.
Therefore, the rolls are not as quick or easy. But they are arguably more interesting, fun, and adventurous.
Are you excited yet?
From all these treats, it is obvious that there are so many more ways to end up with creative cards. What other ideas can you come up with?
At this point, you might be asking: why bother to make it so creative? Essentially, the point is to transform those ordinary cards into creative memories...
...something that the person you send it to will cherish and save forever.
Have you already achieved this with one of your cards? Then let the world know! In other words, inspire someone else by sharing your story below....

What Are the Best Features of Your Most Creative Cards?
Everybody has something they love about any card that they consider as creative. What's yours? In other words, what's your story?

Want to include a video? Just copy the "embed code" and paste it below! It's that easy.
See What Others Loved about Their Creative Cards
Click below to see what other visitors shared about their creative cards...
Ideas for Making Creative Cards Not rated yet
Creative cards, as the name suggests, needs some flare rather than the same old fashioned way of card making. Likewise, the extra things that make a card …