It's Shreyas' Birthday Party!
by Sidhuram
(Coimbatore, Tamilnadu, India)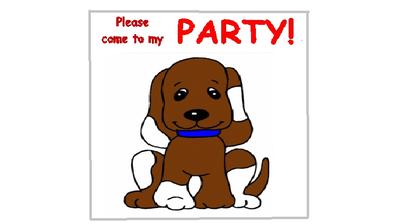 It's Shreyas' birthday and you're invited to his party!

You may already know that my son, Shreyas, is a cute little lad and the apple of everyone's eye in our family. So, my wife and I want him to celebrate his birthday with a party and gifts.

By the way, it was my wife's idea to let Shreyas pick out his own invitation card. Okay, she helped him too. However, I think he made a good choice as he loves our dogs and calls them whatever he lives (just like he calls me 'Appa' and his mom 'Amma')

Oh, I forgot to mention our dogs! We have a Rottweiler and a Labrador and these lovely creatures are more affectionate to my son than to me and my wife and Shreyas reciprocates the same way.

Back to the card, based on Shreyas' choice, I got a picture of a cute dog and wrote "Please come to my PARTY!" because we want Shreyas to address you himself through the invitation.

The food for the party includes cake, ice cream, and a filling Hyderabad Biriyani. Yummy, right!

In truth, I didn't have much of a birthday party growing up. That's why we we're trying to give Shreyas a memorable one!

So, come prepared to have fun!

Date: 18/12/2012
Time: 7:00 pm
Venue: Our home!

Also, feel free to RSVP by posting your comments below…

See ya!