Your Greeting Card Supplies Might Need a Makeover If....
10 ways the right greeting card materials can save you time, money, and prevent stress
Have you ever postponed a project halfway in because you didn't have the right greeting card supplies? How about improvising with whatever you could lay your hands on around the kitchen?
You are not alone. In fact, every card maker has done them at one point or another.
However, If you answered "Yes," then you might need to makeover your greeting card supplies.
Here are other questions and topics to help you decide. Hope you get some good laughs out of them.
1. Using your fingernails as tweezers?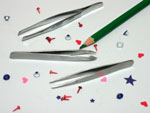 In making greeting cards, expect to come across tiny eyelets, brads, and cutout pieces of paper that are difficult to pick up.
Fingernails are not tweezers for picking up these petite items. Why? It's stressful. Plus, sooner or later, your beautiful nails will chip or break off.
Instead, use real tweezers for that. There are even pen-like suction pickup tools too.
2. Still ink stamping with cutout potato shapes?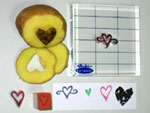 No doubt, potato stamps are cool and creative.
Plus, if your little kid is the one actually doing the potato stamp crafts, then it's even awesome.
But if you are the one, then you may have to consider a makeover.
Cutout potato stamps have irregular edges and are time consuming to create. Also, you cannot get much use out of them before they disintegrate or decay.
It's much better to upgrade to rubber ink stamps. Either the wooden handle stamps or the clear sticky stamps that use mounting blocks are fine. There are endless designs and sizes to choose from.
3. Is your paper always crinkled before starting the project?
Crinkling is usually from cramping the paper in tight spaces. And from improper handling and storage.
Keeping the greeting card paper in pocket files is a good option. Still, a better option involves storing the paper horizontally in thin drawers.
Whichever you decide, they should have enough room to properly accommodate the paper sizes you are working with. And the most common are the 8.5" x 11" or 12" x 12" types of paper.
4. Is it a kitchen chopping board or a craft cutting mat?
It's okay If you prefer chopping boards to cutting mats. But have separate chopping boards for the kitchen and your crafts.
Because using the very same board for slicing up food as well as paper with glue, ink and other craft chemicals is really not a healthy idea.
Besides, the grid lines on the cutting mats come in very handy when cutting either simple or intricate pieces. After using it, you will wonder how you ever survived without it. Try it and see.
5. Turning the hair blow drier into a craft heat gun?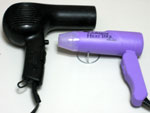 Do you use your hair blow drier as a craft heater? There's a better and safer tool for that purpose: the craft heat gun.
It's safer because the hair drier gives off far more heat than the craft gun. 1875 watts as compared to 300 watts. That amount of heat with flammable paper and glue is a catastrophic accident waiting to happen.
Also, some craft heaters have support stands that keep them away from these combustibles. Apart from this, the faster and turbulent hair drier will surely blow off your embossing dust and other craft materials. How annoying!
6. Using cups and plates as circle and curve templates?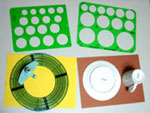 It's great to think outside the box and improvise with dinner plates and teacups. But, ironically, this only limits your drawing and cutting abilities, options, and speed.
There are many more curve and circle sizes possible from just one cutter.
And there are many different curve and circle cutters and templates available today.
7. Still using razor blades to cut the craft?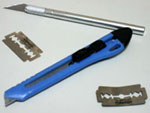 Razor blades are stressful and unsafe greeting card supplies. The blades have two edges. So when one edge cuts paper, the other edge cuts you.
No matter how careful you are, sooner or later, you will cut your fingers from putting pressure on the blade.
Apart from this, the poor quality of the cut shows. Why? The blade has no handle. Therefore, it is far more difficult to control than the Xacto knife and other craft knife alternatives.
...Especially when cutting two or more pieces of cardstock at a time.
8. Do your projects still warp from the glue?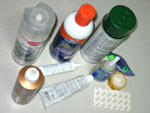 This happens when the craft paper gets wet from the glue before drying. Or when the adhesive shrinks while drying. Thus, pushing, pulling, and warping the paper.
In the past, it was difficult to figure out the right amount of glue that won't warp the work. Nowadays, If it's a good quality adhesive, then just use modestly and follow the label instructions.
Therefore, get good quality glue and stop rushing the gluing process.
By the way, the adhesives now come in all forms and sizes. Examples include glue sticks, glue tapes, fluid glue, spray adhesives, and even water resistant craft glues.
9. Are you always afraid of messing up the edges?
Are your card edges always straight and unchanged because you are afraid of messing them up? The right supplies can change all that.
Of course, sliding cutters and guillotines make cutting easier and more precise. But there's more to cutting than just scissors and straight edges.
If you're ready to fight the fear and get creative with the card, then upgrade your greeting card supplies. There are pattern scissors and decorative edge cutters out there. Plus other fancy edge and corner punches in various shapes and sizes.
10. Do you use the kitchen dinner fork as a scoring tool?
A score is the notch, groove, or incision that marks the edge of a fold.
Do you use a fork or some other kitchen utensil to score the greeting card? Or maybe you don't score at all. If so, please start scoring.
It makes folding a lot easier. Additionally, the folded sides align much better afterwards.
Hence, for your greeting card supplies, choose good tools like scoring pen, bone folder, paper creaser, and many others.
So, do you need to makeover your greeting card supplies?
At this point, hope you have an answer for this question.
As for me, I was a culprit of all of the above at one point or another. That's how I came to write about them ...after changing my bad habits of course. Funny, isn't it?
Maybe, someday, I'll write about some other ways I improvised my greeting card supplies.
What about you? What clever fixes have you tried? And what was the ironic outcome? Share your story below....

Have a Great Story about Improvising Greeting Card Supplies?
So what is your story about the best greeting card supply improvisation you ever made?

How did it turn out: as expected, better, or worse? By the way, what would you change about it if you had a makeover?

Want to add a video about this? Just copy the "embed code" and paste it below! It's that simple.
Reminisce over Your Greeting Card Materials: Stories from Other Visitors
Click below to see good, bad, funny, and ironic tales about greeting card materials from others like you.