Creating Unique Cards Is Easier Than You Think
What really makes a greeting card unique? Find out and use it to transform your card projects
Thinking about creating some unique cards? Then consider this:
As a card "crafter," a compliment like "This card is unique" is one of the rarest you could ever receive.
Why is this so? Is it possible that, instead of a unique creation, you are making a creative card? Certainly, a comment like "This is a creative card" is also great. But it just won't do if the goal was to get a compliment for making something unexpected.
Regardless, putting a unique card together is quite straightforward. Simply change one of the many elements or aspects of making a basic greeting card and you are done.
However, unique greeting cards are different from creative greeting cards, even though they have some similarities.
Anyway, these cards have another advantage. Because of their unique nature, they provide a rare opportunity to add humor painlessly. Hence, they can easily become funny cards.
Here are some of the ways to end up with unique cards:
Move the fold from the edge to the corner

In other words, the greeting card becomes a diamond layout instead of square or rectangular shapes.
Depending on the finished corner fold, a support leg behind the card might help. As this will make the card stand without falling.
That said, this miss you card here can stand on it's own without support stands.
By the way, this corner fold style is also a nifty way to create unique wedding invitations...
...without the support stands of course.

Want to see an alternative design of this miss you card where the writing flows from left to right instead of from top to bottom? Remember to vote for the one you prefer.

Keep folding the paper until it no longer looks like a card
Paper folding is an ancient Japanese art called origami.
Even though a small piece of origami on a greeting card is creative, it is neither new nor unique. On the other hand, turning the whole card into a big origami greeting card is definitely unique.
Instead of paper, use something else
It is no surprise that most cards are made of ordinary paper.
Why not change this? For unique cards, here are three of the many ways:
Use leather.


Use plastic.


Use cloth.

Cool Tips
You can actually find special plastic, cloth, and leather that fit this purpose in arts, craft, and scrap-booking stores.
If using cloth or similar material, either roll it up like a scroll like in this wedding invitation or add cardboard or cardstock for skeletal support like in this love greeting card.
Instead of lettering with ink, embroider
This also peers into the realm of creative greeting cards. Because hand sewing simple embroidery on a greeting card is not unique. Plus these embroideries are usually simple shapes with no lettering.
However, technology provides the opportunity to take it to the next level and do something totally different.
So bring out those special sewing machines and start pushing the lettering and embroidery buttons.
Also, don't forget to add variety by embroidering on different materials like paper, plastic, and leather.
Remember, it does not have to be complex...it just has to be unique.
Instead of a whole piece of cardstock, chop it up
For most cards, there is one main piece of cardstock used as background and foundation. Simply cut up the card and you have a unique creation. This can lead to:
Why use ink on paper when there are other materials?
Obviously, paper is the most common medium used for drawing, stamping, and printing. Try changing this. Use plastic, leather, cloth, or something else.
For example, the multipurpose transparency film used for projector slides works great as well for this purpose.
Please Note
You can also find these printable plastic, cloth, and leather in arts, craft, and scrap-booking stores.
Why glue it when you can sew it?
Glue holds all the pieces of the card together, right?
In the creative greeting card world, the answer is yes. But here in the unique greeting card world, please feel free to sew the paper and cardstock pieces together
Whether it is hand or machine sewing, it doesn't matter. Just do it.
Change the theme of the card
Changing the theme of the celebration to suite another occasion is definitely interesting.
For example, turning an Easter card into a birthday card is cool for someone born around that time of the year. And this definitely qualifies as a unique card.
On the same note, if a wedding took place around Xmas, you can use Christmas art and symbols to create a wedding anniversary card. This by itself makes it a funny card.
Is it still a greeting card if there are no words on the cover?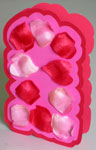 Needless to say, it's common practice to title cards or put words on their covers.
If not, there's no way anyone can know what the cards are meant for. Right?
On the other hand, If you break this rule and still put together cards that need no guesswork, certainly, the results are unique cards. Right?
Then, break the rule!
Besides, this gives you the opportunity to add various unique greeting card verses inside the card just like in this unique love card.
Don't leave the name inside the card, take it outside
It is customary to only put the recipient's name inside the card. Why not change this and place it outside too? Better yet, take it a step further: let the name be the only word at the front.
This idea is a good example of a card that covers different realms. It shows one of the many ways to personalize your card. Plus it falls into the realm of creative greeting cards for different reasons.
However, with this method, make the name big and bold. It is also good habit to use fonts, figures, or symbols that identify the occasion when possible.
That's not all
Now that you have stepped into the adventurous world of unique greeting cards, keep this in mind:
There are various greeting card element. And there are a couple ways to alter each of these features. Hence, there are practically many more ways to end up with unique cards.
For example, some greeting card features didn't make the list here because they only apply to Christmas cards. Thus, a unique holiday card is the outcome of changing one of those particular elements.
In other words, what other ways can you figure out?
Don't just answer in your mind. Instead, share your story below and inspire someone else....

Have a Great Story about Your Favorite Unique Card?
What would you do to get that rare "This card is unique" compliment?

Share your story about how and why your card is different, innovative, unique, or special. You'll be amazed how many people will comment that they agree with you.

Want to include a video with your story? Just copy the "embed code" and paste it below! It's that easy.