Have an Interesting Greeting Card Story? Feel Free to Share!

See cool greeting card projects & stories from visitors around the world! Join in the fun with your ratings, comments, and contributions
One of the coolest things about any greeting card is that there's usually a fascinating story behind it. The only question is: do you consider them captivating enough to share? You should share because, in truth, they are interesting whether you think so or not.
That's why my family's card quests have led to a lot of stories. Some of which are on this site: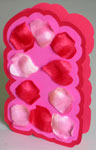 Remember when I used the love-shaped petals I saved from my wedding to make a love card five years later? Apart from this, I messed up my first attempt and had to start all over. I still have both cards for you to see.
How about the Facebook post about the collage card I've been making for my son for about a year (link opens in a new window & don't forget to like us on Facebook)!
Not to mention when I made both miss you card styles because I was too indecisive to pick one?
Plus, the many bad habits I had with my card making supplies before I turned over a new leaf and had a makeover of my supplies.
...But enough about that because it's about you!

Whether or not you make your own cards, plus whether you send and receive them through hand delivery, snail mail, e-mail, or other means, one thing is certain:
There's more to greeting cards than just a mere pass time hobby. And it doesn't have to turn into tedious, stressful work either.
Card projects can become adventures for both the sender and receiver. These adventures turn into memories. And these memories, in turn, become history.
Please feel free to share the mere pass time hobbies, pleasant or stressful projects, amazingly gutsy creations, good and bad memories, plus wonderful history.
Use the links below to tell your stories

Birthday
Christmas

Invitations and E-Invites

Bringing Your Creativity to Light

Card Messages

Card Making Supplies and Materials

…Perhaps, You Just Want to Keep in Touch

Don't see the topic you want? Not to worry, you can tell your story below. Either scroll down to the form or click here to jump down to the form.

Here are some of your card stories & tips
A Musical Birthday Card for Mom
For my lovely mom's birthday card, I wanted to make sure I gave her a thoughtful card to illuminate her day before she took a birthday trip out of town. …
The Improvised Gum Leaf Christmas Card 
Strictly speaking, this improvisation was not technically a Christmas card. I guess that's what made it unique!
My Card Making Supplies Include Perfumes
I just want to write about the interesting and sweet smelling card making supplies I use when I make my own greeting cards.
Tell Your Greeting Card Stories Here
Looking forward to reading your greeting card stories. Thanks in advance for sharing.

By the way, you can add videos with your story. Just copy the "embed code" and paste it below!