Creating Funny Greeting Card Verses from Unique Card Features
Do your greeting card projects have unique features? Get ideas for using those features to put together unique and funny greeting card messages
It's no surprise that there are so many ways to put together greeting card verses.
However, if you're working on exceptionally unique cards, why stop there? As an added advantage, you can use the unique features of the cards to come up with cool and funny greeting card messages.
Note that this page only shows one greeting card writing for each featured card. However, some of the cards have many more phrases. Hence, click on them to see their respective pages containing additional examples.
No words on the cover means engaging sentiments inside
When a card with no words on the cover can still convey its meaning, that's unique. However, If the greeting card has no title on the front, then let the art speak for itself. For instance: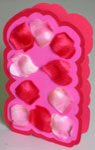 Hope the petals
make it obvious...
...I love you
Click here for others including wedding anniversary message.


The winter might seem cold and stormy
But I have you to keep me warm.

Merry Christmas My Love.
Click here for parents-to-children option and a wedding anniversary verse.

From see through to cool greeting card verses
Specialty supplies sometimes come with inherent and helpful features of their own. For example:

In case you haven't noticed
My feelings for you
Are clear and transparent.
...I♥U

Happy Valentine's Day
Unique greeting card messages from leather-like cards that rock
Specialty materials could lead to particular designs. Use these designs to your advantage. To illustrate further:

For your big day,
Here's one belt
You never have to unbuckle

Have a wonderful birthday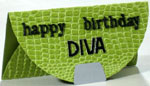 Here's a purse looking card
For the Diva that loves
And owns every other purse in the world

Happy Birthday!
If the card is woven, let it show
You're woven into my heart
My One. My Only. My Valentine!
If the color goes against the norm and makes it stand out, then use it!

It's no argument that purple is not a Christmas color. However, for a purple lover, this doesn't matter.
Hence, give an extra dose of that color in the greeting card sayings, and you'll end up with funny Christmas greeting card verses.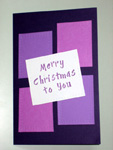 Dreaming of a purple Christmas?
I guess your wish just came true!

Merry Christmas!
Unique greeting card verses from non-unique features
For the unique card, you can still get inspirations for the greeting card phrases from its ordinary card features. This doesn't make it any less of a card. Instead, it could even help create better greeting card sayings.
For example, in the featured card, there's nothing exceptional about using blue color to make a card. Nonetheless, the color fits the "blue" miss you greeting card messages perfectly.
By the way, do you know why this blue paper-craft below falls into the realm of unique cards?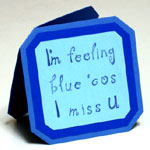 ...And it's so bad that I can't
even stand the color blue anymore.
Still missing you
Click here for other funnier greeting card verses that suit the blue nature.

Cool, right?
In fact, there are many ways to make unique cards. This means there are so many more ways to use the unique card features to come up with funny greeting card verses.
So, what other greeting card phrases come to mind?