Get Funny Greeting Card Phrases from Cool and Creative Card Features
Get inspirations and ideas for putting together funny greeting card messages from your creative card features
Inspirations for greeting card phrases can come from anywhere. Hence, the nice features of your creative cards are not exceptions.
The ironic thing is, more often than realized, it's possible to search high and low for greeting card messages while the perfect greeting card sayings are staring you right in the face.
Note that, to reduce duplication, this page only shows one greeting card message per featured card. Nevertheless, some of the cards have additional examples. Hence, click on them to see more phrases in their respective pages.
From fireworks to sparkly greeting card messages
For a card that glitters and shines like this, it only makes sense to leave a twinkling smile on the recipient's face: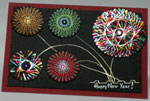 Hope your new year
Sparkles like fireworks!
Don't forget to use the shape or theme
Yes, focusing on the shape, theme, or art is one of the ways to make a creative card. However, it's also one of the ways to add funny greeting card verses.
For example, since this 3D card looks like a diaper, then use:
...Now, let the
diaper changing begin!

Congratulations once more!
Sometimes, to your advantage, the art is larger than life
For a greeting card art that's larger than life, it's a no brainer.

For your birthday,
I wanted to get you
The biggest golf ball I could find...
...I guess the one on this card
Will have to do.

Happy Birthday!
Multiple Pages? Embrace Them!

For greeting card formats, multiple pages lead to creative cards. However, this poses a slight challenge if you don't want many blank pages.
The solution is to divide what you want to say to fit all the pages in a logical manner. Also, since this method gives you fewer words per page, consider increasing the font size.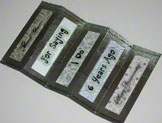 Thank You
For Saying
'I Do'
6 Years Ago
Happy Anniversary
The humor can start from the cover too!
Even when the card has a funny title on the cover, it usually takes a complementary greeting card phrase inside to drive the message home.
For example, this baby delivery greeting card looks like a postage stamp. Hence, since postage stamps are used for mail deliveries, the card already has a humorous title on the cover. Cool, right?

Announcing a baby delivery
...with zero mailing fees
Click here for more funny new baby greeting card messages with postage theme

This only scratches the surface
As there are numerous ways to make creative cards? , it simply means there are many more ways to put together greeting card verses from the creative card features.
So, are you inspired yet? Then, give it a try?