Make a Purse-Like Unique Birthday Greeting Card that Suits a Diva
Get card making instructions, greeting card messages, plus tips and tricks for adding some purse-content-art inside this 3D unique birthday card
Why make a unique birthday greeting card that looks like a purse?
In truth, using a theme or fashion symbol that the celebrant loves is one of the coolest ways to make a birthday greeting card.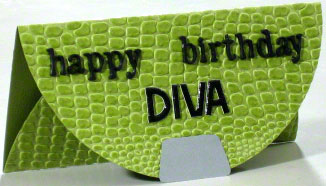 However, take it to the next level by adding a unique feature to the card. In this case, a leather-textured purse card for that diva you know is an awesome way to go. By the way, this kind of material is available in craft stores.
If a purse won't do the trick, think of another fashion symbol like a unique belt birthday card.
Greeting Card Message Ideas
Another point of making a cool card like this is that you can use the concept to create the greeting card message.
Here are a few examples:
Time to celebrate your birthday...
...'Divalisious' style!
Additionally:
Here's a purse looking card
For the Diva that loves
And owns every other purse in the world

Happy Birthday!
Tools and Materials
12" x 12" lime green leather like material or paper available in craft stores

12" x 12" lime green cardstock paper

1" x 2" metallic silver cardstock paper

Thick black dimensional (3D) lettering stickers

Drawing pencil

Eraser

Circle template

Circle cutter

Scissors

Metal ruler

Scoring stick

Cutting mat

Craft cutting knife

Glue
Card Making Instructions
Glue the green leather material onto the green cardstock paper. This rigid card stock firms up the leather material.

From this, cut out a 8" x 12" piece.

Using the 8" diameter curves, draw and cut out all four corners.

Score and fold this piece into a 4" x 8" pamphlet fold card format.

On the metallic cardstock, draw and cut out a trapezoidal buckle with 1.5" top, 2" botthom, and ⅛" radius corners.

Glue this piece on the bottom of the card cover.

Finally, using the 3D letters, create "Happy Birthday Diva" on the card.





Cool Trick

There's probably no way to clean pencil marks after gluing the letters.

Hence, instead of pencil marks, use solid object like ruler to align the letters.
With that, the card is done. Nevertheless, here are a few more things to consider:
Card Making Tips and Tricks
Feel free to apply your creativity inside the card.
For example, use purse art and graphics sheets and stickers to create items you'll find inside a purse.
Alternative Designs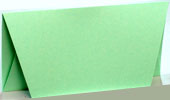 Instead of circular or curved edges, a different option is slant edges.
---

Also, if a purse is not the celebrant's favorite, try a belt birthday card or something else.
---
Finally, If green is not the celebrant's favorite color, there are so many other leather colors to choose from in the craft stores.